Bruce Davidson
Bruce Davidson is one of America's most enduring artists, having influenced generations of both aspiring and accomplished photographers, challenging them to be bold, honest, committed—and above all else, to produce work of the highest standards.
Although he is uncomfortable with the appellation of documentary, Davison's work has both defined and transformed the form of documentary photography for more than 50 years. First gaining national recognition for his work on Brooklyn gangs and the civil rights movement in the early 1960s, it was his seminal work, East 100th Street (produced from 1966-68) that set a new vision and standard for social documentary photography, representing an unapologetic and near perfect union of form and content. Taken with a large format view camera, Davidson spent two years exploring a block in East Harlem, bringing us the most stunningly beautiful and intimate portraits of black and Latino residents of an area of New York infamously known at the time by less generous descriptions.
Produced during the cultural revolution of the 1960s, the unstated over and undertones of East 100th Street are profound. Davidson presented to the monochromatic arts and cultural establishment of New York and the nation a stunningly beautiful portrait of a community of a vastly different color and let us all ponder the political, social, and economic consequences of race and class in America.
Forty years later Davidson is actively shooting remarkable photographs, more recently of nature in Paris, Central Park, and Los Angeles. The work displayed here is from Davidson's most recent work, Nature of Los Angeles, paying attention to the trees of this city, shooting beneath the 405 overpass or behind the Hollywood sign. Davidson stated in an interview with the New Yorker, "I have never been a photographer who loved sunshine. I liked gloom. But now it is changing for me. I want the tree to be there and live beautiful." Even at 78, a New Yorker like Davidson can find wonder in a place as wonderfully absurd as Los Angeles, and we are fortunate to be able to see these masterful images by this remarkable photographer here at the New York Photo Festival.
—GR
Biography
Bruce Davidson (born in Chicago, 1933) is considered one of America's most influential photographers. He began taking photographs when he was ten, and studied at the Rochester Institute of Technology and the Yale University School of Art. In 1958 he became a full member of Magnum Photos, and in 1961 he received a Guggenheim Fellowship to document the civil-rights movement. After a solo exhibition at the Museum of Modern Art in 1966, Davidson spent two years photographing one block in East Harlem, resulting in his book East 100th Street. He received the first National Endowment for the Arts grant for photography in 1967 and a solo exhibition of this work was curated by John Szarkowski for the Museum of Modern Art in 1970.
In 1980, Davidson began his startling color series of urban life in the subway. This classic series was first published by Aperture in 1986 and has since garnered critical acclaim for its phenomenal use of extremes of color, and shadow set against flash-lit skin. A third edition of Subway is copublished this fall by Aperture and Steidl, including twenty-five never-before-published photographs.
In the early 1990s, Davidson embarked on an extraordinary four-year journey taking on the visual and metaphorical scope of Central Park's wildlife—human and otherwise. Published by Aperture in 1995, this series of the park reveals a multiplicity of mysteries, eccentricities, and characters—a microcosm of the remarkable city of which Central Park is the heart.
In 2010, Davidson released a retrospective book Outside Inside (Steidl) with over eight hundred photographs selected and hand-printed by Davidson himself, spanning his entire career.
Davidson received a second National Endowment for the Arts fellowship in 1980, and an Open Society Institute Individual Project Fellowship in 1998. This year he received an Honorary Doctorate in Fine Arts from the Corcoran College of Art and Design.
His work has been shown at the International Center of Photography, New York; Walker Art Center, Minneapolis; Palais de Tokyo Museum, Paris; Smithsonian Institution, Washington, D.C.; Musée Réattu, Arles, France; Burden Gallery/Aperture Foundation, New York; Parco Gallery, Tokyo; and the New-York Historical Society.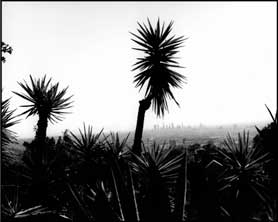 Bruce Davidson. USA. View of downtown LA from Runyon Canyon Rd. Los Angeles, California. 2008. © Bruce Davidson/Magnum Photos