Lori Grinker
Documentary photography is an imprecise term with many meanings. Bruce Davidson denies he does it. Rina Castelnuovo and Platon have never been called one (documentary photographer). Eugene Richards work is documentary only as much as Robert Frank's work is documentary. Lori Grinker on the other hand is unquestionably and unabashedly one. Grinker's work embodies the core definition and tradition of documentary. Her work is self-directed, long term, and has one goal in mind—to tell a compelling story about some aspect of the human condition using the visual language of photography and the visual tradition of the fine arts.
Her work can be intensely personal such as "Distant Relations," a documentary project about the dispersion in the 1800s of a single family – The Grinkers – from Lithuania to the far reaches of the globe. Or her work can be intensely topical and political such as the work featured here exploring the effects of war on generations of veterans throughout the world, "the war that rages on after the combat ends."
There is no pretense here. Rather here is a committed story teller, with a burning curiosity venturing off into the world. A light tight box with a lens and a medium to record the moment is her tool of choice.
Grinker returns with powerful and well-crafted images that she uses to weave compelling stories about the human condition. If the form of documentary is to survive, it is because of photographers like Lori Grinker who will continue to devote their life's work to excelling at it, and become a model for a new generation of photographers looking for direction in this sea of photography flooding the internet daily.
—GR
Biography
Lori Grinker, born in New York, is an award-winning documentary photographer. Internationally exhibited and published, her work has garnered many awards, including a W. Eugene Smith Memorial Fellowship, an Ernst Hass Grant, and a Hasselblad Foundation Grant. Known for long-term, intimate projects that blend humanistic photography and fine art, she has published two books: The Invisible Thread: A Portrait of Jewish American Women, and Afterwar: Veterans from a World in Conflict. Her photographs are held in the collections of the Israeli Museum, Jerusalem; the ICP, New York; the Museum of Fine Arts, Houston; and San Francisco MOMA. A lecturer at Yale since 2010, and a faculty member at ICP, she teaches workshops around the world. Her current project, Distant Relations, explores through landscapes, portraits, and interiors her family's diaspora. She is represented by Nailya Alexander Gallery in New York, Meo Represents, and has been a member of Contact Press Images since 1988.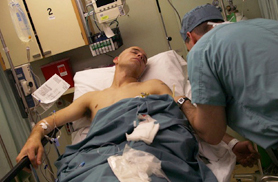 Lori Grinker. Jose Torres. Lying on a gurney in the pre-op room aboard the USNS Comfort, Sgt. Jose Torres is prepped for surgery by an anesthesiologist.