Platon
Platon stands out as the singular 21st century photographer in this exhibition. Born in 1968, raised in Greece, educated in London, and soon doing work for Rolling Stone, Vanity Fair, Esquire, GQ, Time, and the New Yorker, Platon has established himself as one of the leading editorial photographers working today. Unlike other photographers in this exhibit, his work is not directly affected by the 1960s and the Vietnam War. More likely he has been shaped by the events of 9/11/2001, which shows both in his profound awe, if not respect, for world leaders, yet his deep appreciation for issues of justice – a combination not found in the work of an earlier generation who often brought a more critical view of power.
Platon's extensive photo essay in the New Yorker in December 2009 on heads of state attending the UN General Assembly in New York match closely in form to the portraits made of activists in the Egyptian revolution in 2011, but differ in one important sense. The former are people of power, the latter are people who have risked their lives, endured torture, and experienced the death of family members, all in a successful bid to overthrow Hosni Mubarak—the Egyptian head of state for 30 years.
In the end, Platon focuses his camera on people who are making a difference in this world and the judgment is left to us as to how to interpret a raised eyebrow, a wrinkle on a forehead, or a smile you can't quite trust. Whether photographing Vladimir Putin or Aung San Suu Kyi for the cover of Time magazine, or Burmese monks in Thailand, Platon employs the identical technique to his images—he "Platonizes" them—and leaves the critique to us.
In an age when magazines no longer have the budgets they once did for overseas travel, photographers are seeking new markets for their work. Platon has forged new ground by finding work with leading NGOs such as Human Rights Watch to subsidize his work so that news magazines can afford to publish important stories on human rights issues. This turns journalistic ethics on its head, but who is counting?
—GR
Biography
Born in London in 1968, Platon was raised in the Greek Isles until his family returned to England in the 1970's. He attended St. Martin's School of Art and after receiving his BA with honors in Graphic Design, went on to receive an MA in Photography and Fine Art at the Royal College of Art. After working for British Vogue for several years, he was invited to NY to work for the late John Kennedy Jr. and his political magazine, 'George'.
After shooting portraits for a range of international publications including Rolling Stone, the New York Times Magazine, Vanity Fair, Esquire, GQ and the Sunday Times Magazine, Platon developed a special relationship with Time magazine, producing over 20 covers. In 2007 Platon photographed Russian Premier Vladimir Putin for Time Magazine's Person Of The Year Cover. This image was awarded 1st prize at the World Press Photo Contest.
In 2008 he signed a multi-year contract with the New Yorker. As the staff photographer, he has produced a series of large-scale photo essays, two of which won ASME Awards in 2009 and 2010. Platon's New Yorker portfolios have focused on many themes including President Obama's Inauguration, the U.S Military, portraits of world leaders and the Civil Rights Movement.
The following year, Platon teamed up with the Human Rights Watch to help them celebrate those who fight for equality and justice in countries suppressed by political forces. These projects have highlighted human rights defenders from Burma as well as the leaders of the Egyptian revolution. Following his coverage of Burma, Platon photographed Aung San Suu Kyi for the cover of Time — days after her release from house arrest.
Platon's first monograph 'Platon's Republic', was published in 2004 by Phaidon Press. To coincide with its publication, the work was exhibited internationally, in London at the ex-Saatchi Gallery as well as the Milk Gallery in New York.
His second book, 'Power' — a collection of portraits of over 100 world leaders - was published in 2011 by Chronicle and following its success was selected by Apple to be released as an app. The book includes portraits of Barack Obama, Mahmoud Ahmedinejad, Dmitry Medvedev, Benjamin Netanyahu, Hugo Chavez, Mahmoud Abbas, Tony Blair, Robert Mugabe, Silvio Berlusconi, and Muammar Qaddafi.
In recent years, public speaking has progressively played a major role in Platon's career as communicator and storyteller. He has been invited to be a keynote speaker at the World Economic Forum in Davos, Yale, the London School of Economics, the National Portrait Gallery in London and the International Center of Photography in NY. He has also appeared on a range of television media including Charlie Rose (PBS), Morning Joe (MSNBC), Fareed Zakaria's GPS (CNN) and the BBC World News.
In 2011, his work was exhibited in New York at the Matthew Marks Gallery and the Howard Greenberg Gallery. The New York Historical Society also exhibited a solo show of Platon's Civil Rights photographs, which remain as part of the museum's permanent collection.
Platon's advertising credits include the United Nations Foundation, Credit Suisse Bank, Exxon Mobil, Diesel, the Wall Street Journal, Motorola, Nike, Converse, Verizon, Vittel, Levi's, IBM, Rolex, Ray-Ban, Tanqueray, Kenneth Cole, Issey Miyake, Moschino, Timex and Bertelsmann among others.
Platon lives in New York with his wife, daughter and son.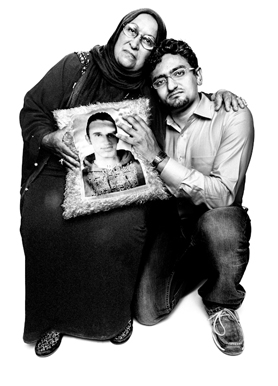 Platon. Laila Said and Wael Ghonim.