Rina Castelnuovo
Rarely do you see a dyed-in-the-wool photojournalist so prominently embraced by an art gallery in Chelsea. That is what drew me both to the Andrea Meislin Gallery and the work of Rina Castelnuovo, an Israeli photographer based in Jerusalem working for the New York Times for the past 20 years. It begs the question, why aren't more photographers who are as talented as Castelnuovo represented by art galleries? Quite the contrary is often true. Many truly gifted photographers who also do journalism or editorial work, are often shunned by "art" galleries because of their work in journalism.
Castelnuovo has been a chronicler of one of the epochal conflicts of modern history, the struggle in Israel and Palestine for land, power, and identify. She does this with tremendous insights and sensitivity to the human condition and with finely developed visual skills she learned while a student of painting in Rome. Is her work any less "art" than other great artists on the walls here or in museums and galleries elsewhere?
Clearly Andrea Meislin answers this with an emphatic "no" by representing her in New York and giving her one-woman shows.
Does Castelnuovo have a bias in her work? Of course she does. She is a woman and she is a Jewish, and both bear strongly on her elegant, sensitive and beautiful images that capture the humanity on both sides of this seemingly intractable conflict.
—GR
Biography
Born 1956 in Tel Aviv, Israel, Rina Castelnuovo has been photographing for the New York Times in Israel since the mid-nineties, as well as for Time Magazine, Stern Magazine, and the Associated Press since the eighties.
Castelnuovo has witnessed two decades of discord in Israel and has endeavored to document the human cost of political strife in the Israeli-Palestinian conflict. In confronting the tensions in the region, she has developed a style that probes the personal reality behind the political façade. Castelnuovo's intention is to be as unobtrusive as possible. Her compassion is evident in the private moments she photographs, in which she captures the soul of her subjects in places ranging from army bases to Israeli settlements. Having spent nearly her entire adult life in Israel, Castelnuovo possesses a deep cultural understanding of the land and its people. Her ability to elegantly capture in a photograph the current situation in Israel is equal to none.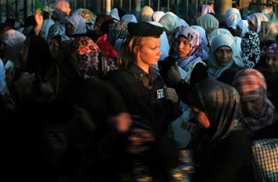 Rina Castelnuovo. Checkpoint, 2011.
Courtesy Andrea Meislin Gallery.