Eugene Richards
Eugene Richards' life and work teaches us a lesson on fundamentally what is important in art – a commitment to an idea and the consummate visual talent to make it real over and over again through his long form documentary projects.
I was first introduced to Richards' work as a photography student at Massachusetts College of Art in 1977. Richards was living and working just a few miles away in Dorchester. His work at the time resulted in Dorchester Days, an honest, gritty, and searing view of urban America not long after the mass exodus to the suburbs was complete but before the rebirth and gentrification of American cities began.
Richards went on to produce other social documentaries (my term, not his), each equally poignant and critical views of the stuff of life in America. Below the Line: Living Poor in America (1987); The Knife and Gun Club: Scenes from an Emergency Room (1989); 50 Hours (1983).
The work presented at the New York Photo Festival, from The Blue Room, is an intensely melancholic and poetic exploration of the Great Plains from 2004-2006. Meth labs were rapidly replacing family farms that were the backbone of so much of the great American experiment. Fracking and the current boom economy of natural gas in rural America had not yet started. Instead homes lay abandoned to the elements – homes that had endured the hardships and rewards of generations struggling to earn a living to create stable families. A vibrant rural culture finally lost out to the allure of what seemed like more vibrant cultures and economies in the vast coastal cities and exurbs to the east and west.
Richards deeply personal images presented here remind us of what the photographic image can do to stir the lives, passions, hopes, and fears of a human soul – both the viewers' and the subject's.
–GR
Biography
Eugene Richards is a photographer, writer, and documentary filmmaker who is perhaps best known for his books and photographic essays on such diverse topics as drug addiction, poverty in America, breast cancer, and emergency medicine. He is the author of sixteen books, the most recent being The Blue Room (Phaidon, 2008), a collection of his photographs of discarded and abandoned houses in rural America; A Procession of Them, which confronts the plight of the institutionalized mentally disabled (University Of Texas Press, 2008); and War Is Personal (Many Voices Press, 2010), a documentation in words and pictures of the human consequences of the Iraq war. Among numerous honors, Richards has been the recipient of a Guggenheim Fellowship, National Endowment for the arts grants, the W. Eugene Smith Memorial Award, and the Robert F. Kennedy Lifetime Achievement Award for coverage of the disadvantaged.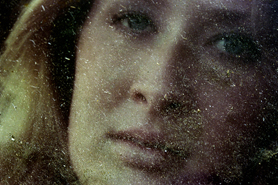 Eugene Richards. Clarence's granddaughter, Howe, Nebraska, 2004.