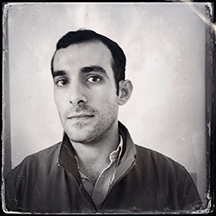 What are you passionate about in what you do? I am moved by the simple power of sharing personal stories and the connective force this emits. With visual mediums, culture and language barriers are less present and we can connect with, feel for, laugh at, disagree with, comment on, and learn from our counterparts around the world.
Ultimately, how would you like to contribute to the photo industry?
1. Creating tools via web applications for self-publishing as well as career and creative development.
2. Editing and creative production
3. Education initiatives
What inspires you about photography? A photograph is beautiful, portable and potent.
What advice would you give to photographers interested in submitting to the Invitational? Choose the body of work which you feel best portrays your voice and mission as a photographer, not what you think is your 'strongest work'. The later tends to be of a specific mold that is less likely to stand out.
What advice would you give to student, alumni and emerging photographers today? Photograph what you know intimately by structuring your projects to minimize the unknown. Think about it: if you go to an unfamiliar land and photograph an unfamiliar topic or concept with a medium you have yet to master in a narrative form you have yet to fully develop in, you will either get lost or plan on spending five years to sort through it all. If you don't have five years, photograph what you know, in a place you know, in a language you know so you can focus on developing this new medium and narrative form. Also, send me postcards! I love that.
Photography is meant to be shared.