Reza
For many photographers, including many of the greatest, their contribution to our species emanates from a rectangular photograph often hanging on a wall. Reza's contribution—on the other hand—comes from his spirit which infuses all of his work, whether it is the Aina Foundation empowering women and children in Afghanistan, his extensive teaching and training in arts and literacy, his humanitarian work in Asia Africa, and Europe, and of course his beautiful and life-affirming photographs – many done on assignment for National Geographic Magazine.
His awards are many and often they are for his humanitarian work as much as they might be for his photography. His list of publications, exhibitions, assignments, and other accomplishments are stunning. Reza is a warrior of peace, a searcher of knowledge, and selflessness with all he brings to the world. In this small island of photography, we are most fortunate that he has chosen a camera as his primary interface with the world.
Reza's signature image – the young girl from Afghanistan shown here with the red hair, emerald eyes, and colorful bracelets – says as much about Reza, his life, and his work as any image can. The two-word caption associated with this image, Afghanistan 2004, tells us all we need to understand about the unbelievable hardship this precious little girl was born into, the tenacity of the human spirit to display such profound beauty amidst this hardship, and the tragic acknowledgement that the exuberance of youth may not survive the fundamental reality of growing into adulthood in a land so fraught with war.
But Reza is not captive to the nihilism that I might bring to his work. The top image of the Sufi dancer brings such joy and hope to his work and to our life, which is fundamentally why Reza is an artist and I remain mired in intellectual pursuit.
—GR
Biography
Philanthropist, idealist, humanist, architect and extraordinary photographer, REZA, as he is widely known, lives to shoot another day. No stranger to conflict, Reza brings winning image after image of never-before scenes to audiences around the world for the last 30 years.
As a photojournalist for National Geographic since 1991, Reza has criss-crossed more than a hundred countries, photographing conflicts, revolutions and human catastrophes but also the beauty of the humanity. His eyewitness testimony has been distributed through the international media (National Geographic, Time Magazine, Stern, Newsweek, El Pais, Paris-Match, Géo…), but also in his books, exhibitions and documentaries made on him and his works.
As a humanist witness, from 1983 Reza initiated photographic-training programmes around the world from refugee camps in war-torn countries to European suburbs. In 2001 he found the Aina World, a new generation of NGO which is committed to children's education and the training of women in communication and information.
After his Memories of Exile exhibition at the Carrousel du Louvre, he shared his humanitarian vision through various exhibitions such as Crossing Destinies, at Luxembourg Gardens in Paris, One World, One Tribe exhibition in Bahrain, Washington D.C and La Villette park in Paris. The exhibition War + Peace, presented at the Caen Memorial Museum was also another occasion of major retrospective of his work.
Author of twenty-five books, winner of the "World Press Photo award", "Lucy Award" at Lincoln Center in New York and the "Infinity Award" by the ICP in New York, he was honoured with the "Medal of Chevalier of the National Order of Merit", the "Missouri Honor Medal for Distinguished Service to Journalism" and granted the title "Doctor Honoris Causa" by the American University of Paris. Member of the Advisory Board of the National Geographic All Roads Film Project, Fellow of National Geographic, Senior fellow of the Ashoka Foundation and member of the executive committee of the HSBC Bank's Foundation, Reza bears witness to capturing the turmoil of the world: "The world is my field of vision. From war to peace, like the ineffable moments of poetry, my images are intended as a testimony of our humanity as we follow the roads down which the world leads us."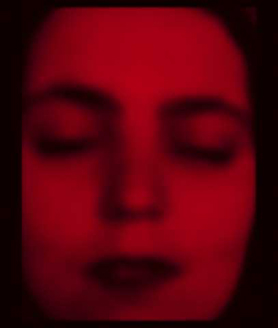 Portrait of a Woman. Saudi Arabia, 2003.