Artists
Leah Beeferman was born in 1982 in Cambridge, Massachusetts. She received her BA from Brown University and her MFA from Virginia Commonwealth University. She has participated in LMCC's Workspace Residency in New York, and has been awarded residencies at the Experimental Sound Studio in Chicago, Diapason Gallery in Brooklyn, and, later this year, The Arctic Circle. She has exhibited widely, including New York, Philadelphia, Washington DC, Richmond, London, Bordeaux, and Copenhagen.
Nicole Cherubini was born in Boston in 1970. She received her BFA in Ceramics from the Rhode Island School of Design and her MFA in Visual Arts from New York University, and later attended the Skowhegan School of Painting and Sculpture in Maine. She is a recipient of an NEA Travel Grant, a New England Foundation for the Arts Fellowship in Sculpture, the Louis Comfort Tiffany Foundation Award, and most recently an Art Matters Grant for travel in Mexico. Her work has been exhibited in group and solo exhibitions both internationally and in the United States; including the Institute of Contemporary Art, Philadelphia; the Walker Art Center, Minneapolis; Santa Barbara Contemporary Arts Forum, Santa Barbara, CA; Sculpture Center, New York; La Panadería, Mexico City; PS1/MoMA, New York; The Rose Art Museum, Boston; Samson Projects, Boston; Galerie Michael Janssen, Berlin; Smith Stewart Gallery and D'Amelio Terras in New York. Her work has been written about in numerous publications and exists in many public and private collections. Nicole lives and works in Brooklyn, New York.
Jen DeNike lives and works in New York. She received her MFA from Bard College in 2002, where she also completed a Master class with renowned photographer Stephen Shore. Her work has been exhibited internationally including exhibitions at Museum of Modern Art, MOMA/PS1, The Brooklyn Museum, Art Basel: Art Public, KW Institute for Contemporary Art Berlin, Tensta Konsthall Stockholm, Julia Stoschek Collection Dusseldorf, Performa Biennial, CAMH Contemporary Arts Museum Houston, Deichtorhallen Hamburg, Experimenta Biennial Australia, MOMA Shanghai. A selection of her videos are currently on view in the new Media Lounge at MOMA. Her video work is in the permanent collection of the Museum of Modern Art, Julia Stoschek Collection, and IL Giardino dei Lauri Collection.
Daniel Gordon (b. 1980) gained a Bachelor of Arts from Bard College in 2004, and an MFA from Yale School of Art in 2006. He has exhibited his photographs in solo exhibitions at Zach Feuer Gallery, Wallspace, and Leo Koenig Inc. in New York City and Claudia Groeflin Gallery in Zurich. He has been included in exhibitions at the Museum of Modern Art in New York, Gallery 400 at the University of Illinois, and in 2010 his work was featured in Greater New York at MoMA P.S. 1. Gordon is the Author of 216 Plymouth Street (onestar press, 2011), Portrait Studio (onestar press, 2009) and Flying Pictures (powerHouse Books, 2009). He lives and works in Brooklyn, NY.
Stuart Hawkins was born in 1969 in Norfolk, VA, and lives and works in New York and Nepal. She has exhibited at the Schirn Kunsthalle Frankfurt; HIAP, Helsinki; Frye Art Museum, Seattle and the International Center for Photography, New York.
Ignacio Gonzalez-Lang is a Puerto Rican artist based in Chinatown, New York. He received a BFA from CalArts and an MFA from Columbia University. His work has been exhibited at MoMA/P.S.1, International Center of Photography, Frost Art Museum, Museo de Arte Latinoamericano de Buenos Aires, O.K. Centrum for Gegenwarstkunst, Fundacio Joan Miro and the Institute of Contemporary Arts London. He has taught at the School of Visual Arts, Parsons the New School for Design, and Columbia University.
Anissa Mack has had solo exhibitions at Parlour Projects and Ten in One Gallery project room, both in New York, and has been included in group exhibitions at Art in General, Bellwether Gallery, Postmasters Gallery and P.S. 1 Contemporary Art Center also in New York. She received a BA from Wesleyan University and an MFA in sculpture from Tyler School of Art, and later studied at the Skowhegan School of Painting and Sculpture.
Nyeema Morgan is a Brooklyn based artist who earned her B.F.A. from the Cooper Union School of Art in 2000 and M.F.A. in 2007 from the California College of the Arts. She attended the Skowhegan School of Painting and Sculpture in 2009 and has been a resident artist of Abrons Art Center's AIRspace program and Aljira: A Center for Contemporary Art's Emerge 10 program. Her work has been exhibited at Art in General, New York; Galerie Jeanroch Dard, Paris; Romer Young Gallery, San Francisco; Abrons Art Center, New York; Aljira: A Center for Contemporary Art, Newark, NJ; Artspace, New Haven, CT and Bracknell Gallery/ South Hill Park Arts Centre, Bracknell, UK.
Yamini Nayar is currently an artist-in-residence at the Lower Manhattan Cultural Council Workspace Residency Program, as well as Visiting Artist Scholar at NYU 2011-12. In 2010, Nayar gave the Lightborne Lecture at the Cincinnati Art Museum, as well as held artist residencies at the Art Academy of Cincinnati and the Center for Photography in Woodstock. Her work has been exhibited in the Cincinnati Art Museum; Queens Museum of Art; Thomas Erben Gallery, NY; Art Basel, Galerie Anne Baurault, Paris; Saatchi Gallery, UK, and the US Embassy in Mumbai, India. Publications include the New Yorker, New York Times, Flashart, Vogue India, ArtIndia, the Guardian, ArtPapers, Philips dre Pury's NOW, Art of the 21st Century and the Sharjah Biennial 2011. Nayar's work is in numerous private and public collections, including the Saatchi Collection, Queens Museum, Cincinnati Art Museum and the US Arts in Embassies.
Sara Greenberger Rafferty is a New York based interdisciplinary artist. In 2011, she had solo exhibitions at The Suburban in Chicago and at Rachel Uffner Gallery in New York, where she is represented. Rafferty has also had solo exhibitions at The Kitchen and MoMA/PS1, New York. Rafferty's photographs are in the collections of the Whitney Museum, MoMA, and Deutsche Bank Collection, among others.
Fay Ray has developed a unique process of working that examines commercial imagery as objects which are then treated to create dense collaged compositions. Shoes, diamonds, watches, jewelry, lips, eyes, and other body parts are converted into a photo collage that takes on the function of an object itself while attempting to negotiate the representation of other luxury commodities. The images of Fay Ray's compositions are situated between the realm of commerce and the realm of surrealism and fetishism--speaking to the complex psychological relationship between desire, excessive consumption, and the construction of feminine subjectivity.
Kenya (Robinson) is an artist from Gainesville, Florida and proud Brooklyn Representer. She is a past resident of the Lower Manhattan Cultural Council's WorkSpace Program (2009-2010) and the 2010 Triangle Arts Workshop. Her sculptural work has been exhibited at The Museum of Contemporary Diasporan Arts, The Jersey City Museum, The Aljira Center for Contemporary Art and The 60 Wall Street Gallery of Deutsche Bank. In addition, her performances have been featured at Rush Arts Gallery, MoMA PS1, C24 Gallery, The Kitchen as well as the Home Section of the New York Times. She is currently an MFA candidate in sculpture at the Yale School of Art and the inaugural resident for Recess Activities' online residency ANALOG.
Xaviera Simmons produces installations, sculptures, photographic, audio and performative works. Simmons was born in New York and currently lives and works in New York and Paris. She received a BFA in photography from Bard College in 2004 after spending 2 years of walking pilgrimage retracing the Trans Atlantic Slave Trade with Buddhist Monks. She completed the Whitney Museum of American Art's Independent Study Program in Studio Art (2005) while simultaneously completing a two-year actor-training conservatory with The Maggie Flanigan Studio (2006). Xaviera has exhibited nationally and internationally where major exhibitions and performances include The Museum of Modern Art (2011); Greater New York at MoMA PS1, (2010); The Studio Museum In Harlem (2010); The Contemporary Arts Museum, Houston; The Sculpture Center, New York; Zacheta National Art Gallery, Warsaw, Poland; and Art in General, New York. Simmons is a 2012 Artist In Residence at The Studio Museum In Harlem and the recipient of many awards including; The David Driskell Prize, a Jerome Foundation Travel Fellowship and an Art Matters Fellowship among others. Selected current exhibitions of works on view in 2012 include The Utah Museum Of Fine Arts, The Corcoran Gallery Of Art, DC, The Miami Art Museum and The CIC, Cairo, The Studio Museum In Harlem. Her works are in the collections of Deutsche Bank, The High Museum Of Art, Atlanta, The Nasher Museum Of Art at Duke University, The Rubell Family Collection, The Studio Museum In Harlem, The Museum Of Contemporary Art, North Miami and The Agnes Gund Art Collection. In Summer 2012 Simmons will travel to Colombo, Sri Lanka as part of The U.S Department Of State's smART Power Initiative. Simmons is currently represented by Nicole Klagsbrun Gallery in New York and David Castillo Gallery in Miami, FL.
Matthew Spiegelman enacts small performances for his camera, creates elaborate optical events, and assembles mundane objects into anthropomorphic transformations. His practice generates cathartic, unsettling, and unexpectedly funny photographic images. Spiegelman graduated with a B.A. in Photography from Bard College in 1908. His work has been shown with galleries in Los Angeles and New York including ACME, Andrew Kreps, M+B, Marc Foxx, and Sister. He is a professor at The New School, and is currently finalizing a book based on his 2007 project Officioné.
Luke Stettner is a Brooklyn-based artist. In addition to his studio work, he is a co-editor of the online arts publication thehighlights.org.
Hank Willis Thomas received his BFA from New York University's Tisch School of the Arts and his MFA in photography, along with an MA in visual criticism, from California College of the Arts in San Francisco. His work was published in his monograph Pitch Blackness (Aperture, 2008). Thomas' work is in numerous public collections including The Whitney Museum, the Brooklyn Museum, and Museum of Modern Art. His collaborative projects have been featured at the Sundance Film Festival and installed publicly at the Oakland International Airport and The Oakland Museum of California. He is an Artist in Residence at Cite´ Internationale Universitaire de Paris. Thomas is represented by Jack Shainman Gallery in New York.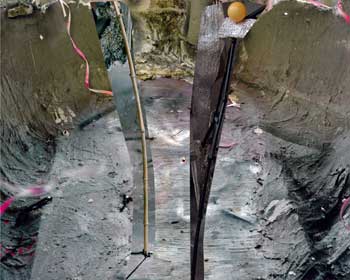 Yamini Nayar
Memorious, 2011